Technical Support
Our scientists are at the bench daily to produce and validate our antibodies, so they have hands-on experience and knowledge of each antibody's performance.
The immune system employs a series of checkpoints to protect normal, healthy tissue from an immune response. These consist of receptors on the surface of activated T cells and their corresponding ligands on the surface of antigen presenting cells. A key immune checkpoint is triggered when PD-1 (programmed cell death protein 1) engages its ligand PD-L1. As a result of this interaction, T cell activation is attenuated and an active immune response is prevented(1).
This mechanism is often co-opted by tumors. PD-L1 is upregulated in several tumor types and contributes to the malignancy of these cancers by interacting with PD-1 and inhibiting T cell activation. In this way, the tumors avoid detection and destruction by the immune system(1-3). Accordingly, PD-1 and PD-L1 have garnered much attention for their roles in tumor immunology and as immune-based therapeutic targets(4,5).
CST PD-L1 product comparison for IHC-P analysis
Recognizes PD-L1 and does not cross-react with other B7 family members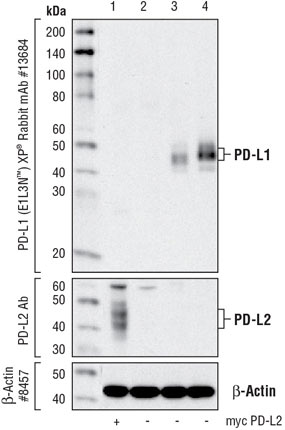 Western blot analysis of lysates from:
COS cells transfected with PD-L2
COS cells mock transfected
KARPAS-299 cells
SUP-M2 cells
Demonstrates consistent, reliable results in immunohistochemistry, flow cytometry, western blotting and immunoprecipitation.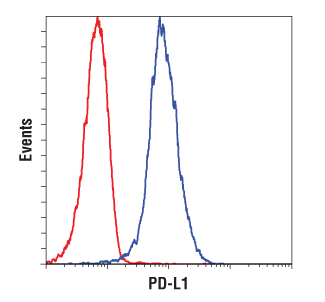 Flow cytometric analysis of untreated SUP-M2 cells using PDL1 (E1L3N®) XP® Rabbit mAb #13864 (blue) compared to concentration matched Rabbit (DA1E) mAb IgG XP® Isotype Control #3900 (red). Anti-rabbit IgG (H+L), F(ab')2 Fragment (Alexa Fluor® 647 Conjugate) #4414 was used as a secondary antibody.