Technical Support
Our CST scientists work at the bench daily to produce and validate your antibodies. They have hands-on knowledge of each antibody's performance. These same scientists provide technical support and assistance.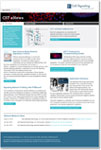 News from the Bench
Discover what's going on at CST, receive our latest application notes, science features, and more.
Cell Signaling Technology debuts the CellSimple Cell Analyzer: A complete workflow solution for benchtop cellular and protein analysis
NEW ORLEANS, LA (PRWEB) -- April 17, 2016, Cell Signaling Technology, Inc. (CST) will debut the CellSimple™ Cell Analyzer at the American Association for Cancer Research (AACR) meeting in New Orleans, Louisiana, April 16-20, 2016.
The Cell Analyzer is a benchtop instrument that performs rapid cell and bead-based assays by combining fluorescence and Coulter Principle technology. The instrument utilizes single-use cassettes for handling the sample, which eliminates the need for fluidics and makes the instrument simple to use and maintain without specialized training. When paired with highly validated kits and reagents from CST, the CellSimple Cell Analyzer enables powerful plug-and-play research assays, such as measuring cell health and vitality or apoptosis. Moreover, the instrument is small enough to be portable between the lab bench and the hood, and priced to make complex cellular analysis routine.
The CellSimple Cell Analyzer was designed in collaboration with and is manufactured by ORFLO Technologies. It will be exclusively marketed by CST to the life sciences research community.
"By offering the CellSimple Cell Analyzer, Cassettes, and Kits, CST provides a complete workflow solution to complement flow cytometry or serve as an alternative to traditional methods of protein analysis. We are excited by the potential of this system to support the type of fast, versatile, and powerful assays researchers need to make important discoveries at the bench." said Michael J. Comb, CEO of CST.
Visit the CST booth (#1512) to learn more about the CellSimple Cell Analyzer, or to request a hands-on product demonstration.
About CST
Cell Signaling Technology (CST) is a private, family-owned company, founded by scientists and dedicated to providing high quality research tools to the biomedical research community. Our employees operate worldwide from our U.S. headquarters in Massachusetts, and our offices in the Netherlands, China, and Japan.
CST Media and Press
Rebecca J. Reppucci, MBA
Cell Signaling Technology, Inc.
Director of Marketing Communications
Phone: 978-867-2382
email: marketingpr@cellsignal.com
Cell Signaling Technology, CellSimple and CST are trademarks of Cell Signaling Technology, Inc. ORFLO Technologies is a trademark of ORFLO Technologies.