Technical Support
Our CST scientists work at the bench daily to produce and validate your antibodies. They have hands-on knowledge of each antibody's performance. These same scientists provide technical support and assistance.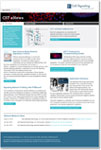 News from the Bench
Discover what's going on at CST, receive our latest application notes, science features, and more.
Cell Signaling Technology (CST) Supports Global Biological Standards Institute (GBSI) Efforts to Develop Antibody Guidelines to Improve Reproducibility
Danvers, MA – October 5, 2016 – Cell Signaling Technology (CST), a worldwide provider of antibodies, participated in the 2016 Global Biological Standards Institute (GBSI) Antibody Validation: Standards, Policies and Practices Workshop held September 25-28 in Pacific Grove, California. The GBSI, a non-profit organization dedicated to improving scientific research reproducibility brought together antibody producers, suppliers and users from academic and industrial laboratories, scientific journal editors, funding agencies, and antibody database developers to discuss and develop guidelines for antibody identification, validation and use.
As a company known for its dedication to antibody validation and quality, and commitment to promoting advances in research science, CST supports this initiative and will continue to participate in the GBSI-organized working groups as part of the ongoing discussion and standards development. CSTs Chief Scientific Officer, Dr. Roberto Polakiewicz, participated and served as a content expert on two panels at the workshop, addressing the role of recombinant antibody technologies in biomedical research, and he highlighted CSTs rigorous validation principles and how they could be used as a model for future standards.
"We support GBSI's initiative to standardize antibody validation, the development of training and certification initiatives and journal participation; the feasibility of other ideas discussed at the workshop such as the implementation of individual antibody scoring or ratings needs to be further investigated" said Dr. Polakiewicz. "It was a powerful opportunity to advance thinking and for CST to be a part of the validation dialogue. CST will continue to enhance technologies and validation processes to remain the leader in antibody validation standards. We are committed to helping the community find good practical solutions."
CST is regarded for its successful antibody validation strategies including application-specific testing, the use of product and application-specific protocols, and the use of orthogonal or complementary methods to test and validate antibodies.  CST has also pledged to continue to increase product and process transparency by making additional supportive data and information available for every product.
About CST
Cell Signaling Technology (CST) is a private, family-owned company, founded by scientists and dedicated to providing high quality research tools to the biomedical research community. Our employees operate worldwide from our U.S. headquarters in Massachusetts, and our offices in the Netherlands, China, and Japan. www.cellsignal.com.
About Global Biological Standards Institute (GBSI)
GBSI, a non-profit organization, is dedicated to enhancing the quality of biomedical research by advocating best practices and standards to accelerate the translation of research breakthroughs into life-saving therapies. For more information and a list of workshop steering committee members visit GBSI.org; Twitter @GBSIorg. Follow the ongoing antibody validation conversation at #AbValidate 
CST Media Contacts:
Rebecca J. Reppucci, MBA
Cell Signaling Technology, Inc.
Director of Marketing Communications
+1-978-867-2382
rebecca.reppucci@cellsignal.com
Shayna Chapel
The Castle Group
+1-617-337-9501
schapel@thecastlegrp.com