Technical Support
Our scientists are at the bench daily to produce and validate our antibodies, so they have hands-on experience and knowledge of each antibody's performance.
Immunohistochemistry (IHC) is an immunostaining technique used to detect protein expression in tissue samples. This technique measures protein expression in a biological sample through antibody binding to a specific protein of interest.
Our rigorous validation protocols help us provide specific and reliable antibodies, which helps you get reproducible and meaningful data every time.
Validation: Our antibodies are recommended at optimal dilutions using specific buffers and protocols. These data are generated through extensive testing of appropriate model systems.
Control Slides: We offer SignalSlide® control slides for staining, so that you can test your antibody performance and optimize experimental conditions.
Protocols: We offer detailed protocols so that you can start your experiments quickly and minimize time and reagent waste.
Technical Support: Our knowledgeable technical support scientists are a phone call or email away, so you have a partner at the bench.
We offer a comprehensive list of companion products that are validated in-house with our protocols so that you can get the reagents you need to complete your experiment.
Companion Products for Immunohistochemistry:
Immunohistochemical analysis of paraffin-embedded human ovarian carcinoma using LKB1 (D60C5F10) Rabbit mAb (IHC Formulated) #13031.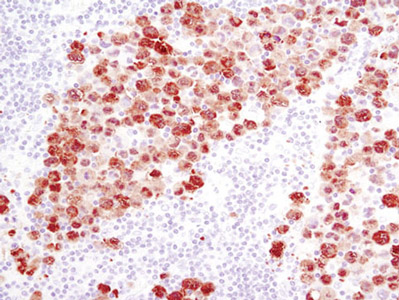 Immunohistochemical analysis of paraffin-embedded anaplastic large cell lymphoma (ALCL) using ALK (D5F3) XP® Rabbit mAb #3633.