Technical Support
Our scientists are at the bench daily to produce and validate our antibodies, so they have hands-on experience knowledge of each antibody's performance. These same scientists will personally provide technical support.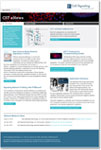 News from the Bench
Discover what's going on at CST, receive our latest application notes, science features, and more.
Stay up to date on the latest news and information from Cell Signaling Technology by following us on social media or reviewing our current news articles and press releases below.
Interested in speaking with CST about a story or an article? Our media contact is:
Rebecca J. Reppucci
Cell Signaling Technology, Inc.
Director of Marketing Communications
phone: 978-867-2382
email: marketingpr@cellsignal.com
Below, please find CST press releases, media advisories and news articles organized by year. Please use the drop down to choose the time period that is of most interest to you.