Home
>
CST Pathway: ESC Pluripotency and Differentiation
Show Hidden Content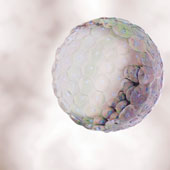 Stem Cell Marker, Development and Differentiation Products
Listed below are CST products for research on stem cell markers, development and differentiation, including:
Antibodies to the core pluripotency transcriptional network, pluripotent cell surface markers, lineage markers, and developmental signaling proteins.
Antibody Samplers, PathScan® ELISA Kits and Antibody Pairs.
StemLight™ Kits and SimpleChIP™ Assay Kits.
Cytokines and Growth Factors.
SignalSilence® siRNAs.
---
No
Product Name
Application
Reactivity
11843
Cell Fractionation Antibody Sampler Kit

4060
Phospho-Akt (Ser473) (D9E) XP® Rabbit mAb

H, M, R, Hm, Mk, Dm, Z, B

9018
Phospho-Akt1 (Ser473) (D7F10) XP® Rabbit mAb (Akt1 Specific)

H, M, R

13038
Phospho-Akt (Thr308) (D25E6) XP® Rabbit mAb

H, M, R, Mk

9916
Phospho-Akt Pathway Antibody Sampler Kit

2965
Phospho-Akt (Thr308) (C31E5E) Rabbit mAb

H, M, R, Hm, Mk

8696
Angiogenesis Antibody Sampler Kit

4051
Phospho-Akt (Ser473) (587F11) Mouse mAb

H, M, R, Hm

12694
Phospho-Akt (Ser473) (D9W9U) Mouse mAb

H, M, R, Mk

9275
Phospho-Akt (Thr308) Antibody

H, M, R

9789
Phospho-EGF Receptor Pathway Antibody Sampler Kit

9267
Phospho-Akt (Thr450) Antibody

H, M, R

5106
Phospho-Akt (Thr308) (L32A4) Mouse mAb

H, M, R, Mk

12178
Phospho-Akt (Thr450) (D5G4) Rabbit mAb

H, M, R

3787
Phospho-Akt (Ser473) (736E11) Rabbit mAb

H, M

4058
Phospho-Akt (Ser473) (193H12) Rabbit mAb

H, M, R

13461
Phospho-Akt1 (Ser129) (D4P7F) Rabbit mAb

H

8336
ALK Activation Antibody Sampler Kit

8205
PhosphoPlus® Akt (Thr308) Antibody Duet

4056
Phospho-Akt (Thr308) (244F9) Rabbit mAb

H, M, R, Mk

12651
PDGF Receptor Activation Antibody Sampler Kit

9271
Phospho-Akt (Ser473) Antibody

H, M, R, Hm, Dm, B, Dg, Pg

8200
PhosphoPlus® Akt (Ser473) Antibody Duet

2966
Akt (5G3) Mouse mAb

H, M, R, Hm

2967
Akt1 (2H10) Mouse mAb

H, M, R

2920
Akt (pan) (40D4) Mouse mAb

H, M, R, Mk

8107
SignalStain® Akt Pathway IHC Sampler Kit

75692
Akt1 (D9R8K) Rabbit mAb

H, M, R, Mk

4685
Akt (pan) (11E7) Rabbit mAb

H, M, R, Mk

2938
Akt1 (C73H10) Rabbit mAb

H, M, R, Mk

9940
Akt Isoform Antibody Sampler Kit

9272
Akt Antibody

H, M, R, Hm, Mk, C, Dm, B, Dg, Pg, GP

4691
Akt (pan) (C67E7) Rabbit mAb

H, M, R, Mk, Dm

14702
Akt (E17K Mutant Specific) (D1T7P) Rabbit mAb

H

8599
Phospho-Akt2 (Ser474) (D3H2) Rabbit mAb (Akt2 Specific)

H, M, R

2964
Akt2 (5B5) Rabbit mAb

H, M, R, Mk

3063
Akt2 (D6G4) Rabbit mAb

H, M, R, Mk

5239
Akt2 (L79B2) Mouse mAb

H, M, R, Mk

3788
Akt3 (62A8) Rabbit mAb

H, M, R

4059
Akt3 Antibody

H, M, R

14982
Akt3 (E1Z3W) Rabbit mAb

H, M, R

14293
Akt3 (E2B6R) Rabbit mAb

H, M, R

15097
Akt3 (E1Z3T) Rabbit mAb

H, M, R

8018
Akt3 (L47B1) Mouse mAb

H, M, R, Hm

2504
APC Antibody

H

9784
Alzheimer's Disease Antibody Sampler Kit

70751
Autophagy Vesicle Nucleation Antibody Sampler Kit

2915
Wnt Signaling Antibody Sampler Kit

2087
Axin1 (C76H11) Rabbit mAb

H, M

3323
Axin1 (C7B12) Rabbit mAb

H, M, R

2074
Axin1 (C95H11) Rabbit mAb

H, Mk

5863
Axin2 (D48G4) Rabbit mAb

H

2151
Axin2 (76G6) Rabbit mAb

H

4680
BMP4 (6B7) Mouse mAb

H

70583
BMP6 (Precursor Specific) (D2V5Z) Rabbit mAb

H

4693
BMP7 Antibody

M

9961
Cadherin-Catenin Antibody Sampler Kit

4176
Phospho-β-Catenin (Ser675) (D2F1) XP® Rabbit mAb

H

9565
Phospho-β-Catenin (Thr41/Ser45) Antibody

H, M, Mk

9566
Phospho-β-Catenin (Ser552) Antibody

H, M

2009
Phospho-β-Catenin (Ser33/37) Antibody

H

9567
Phospho-β-Catenin (Ser675) Antibody

H, R

2951
β-Catenin Antibody Sampler Kit

11887
PhosphoPlus® β-Catenin (Ser675) Antibody Duet

9564
Phospho-β-Catenin (Ser45) Antibody

H

5651
Phospho-β-Catenin (Ser552) (D8E11) Rabbit mAb

H, M

9561
Phospho-β-Catenin (Ser33/37/Thr41) Antibody

H, M, R, Mk

9534
Acetyl-β-Catenin (Lys49) Antibody

H

9030
Acetyl-β-Catenin (Lys49) (D7C2) Rabbit mAb

H, M, Mk

8480
β-Catenin (D10A8) XP® Rabbit mAb

H, M, R, Mk

9587
β-Catenin Antibody (Carboxy-terminal Antigen)

H, M, R, Mk

2677
β-Catenin (L54E2) Mouse mAb (IF Preferred)

H

9581
β-Catenin Antibody (Amino-terminal Antigen)

H, M, R, Mk

8814
Non-phospho (Active) β-Catenin (Ser33/37/Thr41) (D13A1) Rabbit mAb

H, M, R, Mk

9562
β-Catenin Antibody

H, M, R, Mk

9582
β-Catenin (6B3) Rabbit mAb

H, M, R, Mk

2698
β-Catenin (L87A12) Mouse mAb

H, M, R, Mk

4270
Non-phospho (Active) β-Catenin (Ser33/37/Thr41) Antibody

H, M, R, Mk

19807
Non-phospho (Active) β-Catenin (Ser45) (D2U8Y) XP® Rabbit mAb

H, M, R, Mk, Z, Dg

68309
Notch Activated Targets Antibody Sampler Kit

42344
Receptor Tyrosine Kinase Antibody Sampler Kit

12575
E-Ras (D5G5J) Rabbit mAb

M

4370
Phospho-p44/42 MAPK (Erk1/2) (Thr202/Tyr204) (D13.14.4E) XP® Rabbit mAb

H, M, R, Hm, Mk, Mi, Dm, Z, B, Dg, Pg, Sc

9910
Phospho-MAPK Family Antibody Sampler Kit

4377
Phospho-p44/42 MAPK (Erk1/2) (Thr202/Tyr204) (197G2) Rabbit mAb

H, M, R, Mk, Mi, Dm, Z, Pg

9911
Phospho-Erk1/2 Pathway Sampler Kit

9101
Phospho-p44/42 MAPK (Erk1/2) (Thr202/Tyr204) Antibody

H, M, R, Hm, Mk, Mi, Dm, Z, B, Pg, Ce

4376
Phospho-p44/42 MAPK (Erk1/2) (Thr202/Tyr204) (20G11) Rabbit mAb

H, M, R, Hm, Mk, Mi, Dm, Z, Pg, Sc

5726
Phospho-p44/42 MAPK (Erk1) (Tyr204)/(Erk2) (Tyr187) (D1H6G) Mouse mAb

H, M, R, Mk

8201
PhosphoPlus® p44/42 MAPK (Erk1/2) (Thr202/Tyr204) Antibody Duet

9106
Phospho-p44/42 MAPK (Erk1/2) (Thr202/Tyr204) (E10) Mouse mAb

H, M, R, Hm, Mk, Mi, Dm, Z, B, Pg

4372
p44 MAP Kinase (Erk1) Antibody

M, R

9102
p44/42 MAPK (Erk1/2) Antibody

H, M, R, Hm, Mk, Mi, Z, B, Pg, Sc

4696
p44/42 MAPK (Erk1/2) (L34F12) Mouse mAb

H, M, R, Mk, Mi, Z, B, Pg

9926
MAPK Family Antibody Sampler Kit

9107
p44/42 MAPK (Erk1/2) (3A7) Mouse mAb

H, M, R, Hm, Mk, Mi, Z, B, Pg

4695
p44/42 MAPK (Erk1/2) (137F5) Rabbit mAb

H, M, R, Hm, Mk, Mi, Dm, Z, B, Dg, Pg, Ce

9108
p42 MAP Kinase (Erk2) Antibody

H, M, R, Mk

3476
Phospho-FGF Receptor (Tyr653/654) (55H2) Mouse mAb

H

2544
Phospho-FGF Receptor 1 (Tyr766) (1E5) Rabbit mAb

H

3471
Phospho-FGF Receptor (Tyr653/654) Antibody

H

9740
FGF Receptor 1 (D8E4) XP® Rabbit mAb

H, M, R, Mk

3472
FGF Receptor 1 Antibody

H

23328
FGF Receptor 2 (D4L2V) Rabbit mAb

H, M

11835
FGF Receptor 2 (D4H9) Rabbit mAb

H

4574
FGF Receptor 3 (C51F2) Rabbit mAb

H

8562
FGF Receptor 4 (D3B12) XP® Rabbit mAb

H

2894
FGF Receptor 4 Antibody

H

5266
Frizzled5 (D2H2) Rabbit mAb

H

3795
Frizzled5 Antibody

H

5158
Frizzled6 (D16E5) Rabbit mAb

H, Mk

3992
Gα (pan) Antibody

H, M, R, Mk, B

14373
Gα(q) (D5V1B) Rabbit mAb

H, M, R

8213
PhosphoPlus® GSK-3β (Ser9) Antibody Duet

9369
GSK-3 Antibody Sampler Kit

12456
GSK-3β (D5C5Z) XP® Rabbit mAb

H, M, R, Mk

9832
GSK-3β (3D10) Mouse mAb

H, M, R, Hm, Mk

5676
GSK-3α/β (D75D3) Rabbit mAb

H, M, R, Hm, Mk

9315
GSK-3β (27C10) Rabbit mAb

H, M, R, Mk

8566
Phospho-GSK-3α/β (Ser21/9) (D17D2) Rabbit mAb

H, M, R, Hm, Mk

8452
Phospho-GSK-3α (Ser21) (D1G2) Rabbit mAb

H, M, R, Mk

9327
Phospho-GSK-3α/β (Ser21/9) (37F11) Rabbit mAb (GSK-3α Preferred)

H, M, R, Mk

9331
Phospho-GSK-3α/β (Ser21/9) Antibody

H, M, R, Mk, Z

9316
Phospho-GSK-3α (Ser21) (36E9) Rabbit mAb

H, M, R, Mk

9337
Phospho-GSK-3α (Ser21) (46H12) Mouse mAb

H, M, R, Mk, Z

4818
GSK-3α (D80D1) XP® Rabbit mAb

H, M

4337
GSK-3α (D80E6) Rabbit mAb

H, M, R, Hm, Mk

9338
GSK-3α Antibody

H, M, R, Mk

5558
Phospho-GSK-3β (Ser9) (D85E12) XP® Rabbit mAb

H, M, R, Hm

9322
Phospho-GSK-3-beta (Ser9) (D3A4) Rabbit mAb

H, M, R

9323
Phospho-GSK-3β (Ser9) (5B3) Rabbit mAb

H, M, R, Mk

3548
Phospho-GSK-3β (Thr390) Antibody

H

9336
Phospho-GSK-3β (Ser9) Antibody

H, M, R, Mk

14630
Phospho-GSK-3β (Ser9) (D2Y9Y) Mouse mAb

H, M, R

3965
Ras Antibody

H, M, R, Mk, Dm, Pg, Sc

3339
Ras (27H5) Rabbit mAb

H, M, R, Mk, Dm

3024
Phospho-IGF-I Receptor β (Tyr1135/1136)/Insulin Receptor β (Tyr1150/1151) (19H7) Rabbit mAb

H, M, R

3021
Phospho-IGF-I Receptor β (Tyr1131)/Insulin Receptor β (Tyr1146) Antibody

H, M, R

28897
Phospho-IGF-I Receptor β (Tyr1316) Antibody

H, M

4568
Phospho-IGF-I Receptor β (Tyr980) (C14A11) Rabbit mAb

H, M, R

6113
Phospho-IGF-I Receptor β (Tyr1316) Antibody

H, M, R

3918
Phospho-IGF-I Receptor β (Tyr1135) (DA7A8) Rabbit mAb

H, M, R

9750
IGF-I Receptor β (D23H3) XP® Rabbit mAb

H, M, R, Mk

17174
IGF-I Receptor α (D3A2W) Rabbit mAb

H

14534
IGF-I Receptor β (D4O6W) Rabbit mAb (IHC Preferred)

H

8338
Phospho-Insulin/IGF Receptor Antibody Sampler Kit

12004
PhosphoPlus® IGF-I Receptor β Antibody Duet

3027
IGF-I Receptor β Antibody

H, M, R, Mk

3018
IGF-I Receptor β (111A9) Rabbit mAb

H, M, R, Mk

8955
Ras (D2C1) Rabbit mAb

H, M, R, Mk

18070
Mutant Ras Antibody Sampler Kit

14412
Ras (G12V Mutant Specific) (D2H12) Rabbit mAb

H

14429
Ras (G12D Mutant Specific) (D8H7) Rabbit mAb

H

64099
LRP1 Antibody

H, M, R

3889
LRP5 (D23F7) Rabbit mAb

H

5731
LRP5 (D80F2) Rabbit mAb

H, M, R

5440
LRP5 (D5G4) Rabbit mAb

H, M, R, Mk

2568
Phospho-LRP6 (Ser1490) Antibody

H

2560
LRP6 (C5C7) Rabbit mAb

H, R

3395
LRP6 (C47E12) Rabbit mAb

H, M

2338
Phospho-MEK1/2 (Ser221) (166F8) Rabbit mAb

H, M, R, Mk

8211
PhosphoPlus® MEK1/2 (Ser217/Ser221) Antibody Duet

98195
Phospho-MEK1 (Ser298) (D1P9E) Rabbit mAb

H, M, R

9127
Phospho-MEK1 (Thr286) Antibody

H, R, Mk

9154
Phospho-MEK1/2 (Ser217/221) (41G9) Rabbit mAb

H, M, R, Mk, Dm

9128
Phospho-MEK1 (Ser298) Antibody

H, M, R, Mk

9121
Phospho-MEK1/2 (Ser217/221) Antibody

H, M, R, Mk, Sc

26975
Phospho-MEK1 (Thr292) (D5L3K) Rabbit mAb

H, M, R

9126
MEK1/2 (47E6) Rabbit mAb

H, M, R, Mk

9122
MEK1/2 Antibody

H, M, R, Mk, Dm

4694
MEK1/2 (L38C12) Mouse mAb

H, M, R, Mk

2352
MEK1 (61B12) Mouse mAb

H, M, R, Mk

9146
MEK1 (30C8) Rabbit mAb

H, M, R, Mk

12671
MEK1 (D2R1O) Rabbit mAb

H, M, R, Mk

9124
MEK1 Antibody

H, M, R, Mk

8727
MEK1/2 (D1A5) Rabbit mAb

H, M, R, Mk, Dm

9147
MEK2 (13E3) Rabbit mAb

H, M, R, Mk

9125
MEK2 Antibody

H, M, R, Mk

4903
Nanog (D73G4) XP® Rabbit mAb

H

5232
Nanog (D73G4) XP® Rabbit mAb (ChIP Formulated)

H

4893
Nanog (1E6C4) Mouse mAb

H

9093
StemLight™ Pluripotency Transcription Factor Antibody Kit

3580
Nanog Antibody

H

9656
StemLight™ Pluripotency Antibody Kit

3632
Nicastrin Antibody

H, M, R, Mk

5665
Nicastrin (D38F9) Rabbit mAb

H, M, R, Hm, Mk

9447
Nicastrin (D65G7) Rabbit mAb

H, M, R, Mk

5887
γ Secretase Antibody Sampler Kit

4380
Notch1 (D6F11) XP® Rabbit mAb

H, M, R

5732
Notch2 (D76A6) XP® Rabbit mAb

H, M, R

4530
Notch2 (D67C8) XP® Rabbit mAb

H, R

3608
Notch1 (D1E11) XP® Rabbit mAb

H, M, R

5276
Notch3 (D11B8) Rabbit mAb

H

3268
Notch1 (C44H11) Rabbit mAb

H

3439
Notch1 (C37C7) Rabbit mAb

H

2420
Notch2 (8A1) Rabbit mAb

H

2423
Notch4 (L5C5) Mouse mAb

H

2889
Notch3 Antibody

H

3447
Notch1 (5B5) Rat mAb

H, M, R, B

3446
Notch3 (8G5) Rat mAb

H
---