Home
>
Application: IHC-Leica® Bond™
Show Hidden Content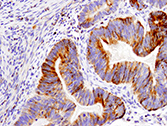 CST Autostainer Protocols for Leica® BOND™
Our ready to go IHC autostainer protocols let you get your antibody selection and IHC assay development done in no time. Every protocol comes with data you can see up front, so you know you can trust the results. 
Protocols include step by step instructions and optimal dilutions to help you quickly setup and run the assay on your Leica BOND. If you need support along the way, our IHC experts are standing by, just click here.
Autostainer protocols are available for the products below. Check back often as we add new ones regularly. To download the protocol, select a product, click on its IHC button in the Applications box at the top of the page, then expand the Protocol section.
Featured image: Immunohistochemical analysis of paraffin-embedded human colon adenocarcinoma using #2933 Bim (C34C5) Rabbit mAb performed on the Leica® Bond™ Rx.
---
No
Product Name
Application
Reactivity
19245
α-Smooth Muscle Actin (D4K9N) XP® Rabbit mAb

H, M, R

93668
Arginase-1 (D4E3M™) XP® Rabbit mAb

H, M, R

2933
Bim (C34C5) Rabbit mAb

H, M, R

64953
VISTA (D1L2G™) XP® Rabbit mAb

H, Mk

86781
CD133 (D4W4N) XP® Rabbit mAb

H

64326
CD133 (D2V8Q) XP® Rabbit mAb

H

90176
CD19 (D4V4B) XP® Rabbit mAb

H, M

13684
PD-L1 (E1L3N®) XP® Rabbit mAb

H

14058
B7-H3 (D9M2L) XP® Rabbit mAb

H

99940
CD3ε (D4V8L) Rabbit mAb

M

25229
CD4 (D7D2Z) Rabbit mAb

M, R

40868
CD40 (D8W3N) Rabbit mAb

H

96024
CD79B (D7V2F) Rabbit mAb

H, M

98941
CD8α (D4W2Z) XP® Rabbit mAb (Mouse Specific)

M

12653
FoxP3 (D6O8R) Rabbit mAb

M

98377
FoxP3 (D2W8E™) Rabbit mAb (IHC Specific)

H

89601
ICOS (D1K2T™) Rabbit mAb (IHC Specific)

H

86630
IDO (D5J4E™) Rabbit mAb

H

15372
LAG3 (D2G4O™) XP® Rabbit mAb

H

86163
PD-1 (D4W2J) XP® Rabbit mAb

H

43248
PD-1 (EH33) Mouse mAb (IHC-Specific)

H

82723
PD-L2 (D7U8C™) XP® Rabbit mAb

H

73425
S100A9 (D3U8M) Rabbit mAb (Rodent Specific)

M, R

83882
TIM-3 (D3M9R) XP® Rabbit mAb (Mouse Specific)

M

45208
TIM-3 (D5D5R™) XP® Rabbit mAb

H

68014
GITR (D9I9D) Rabbit mAb (IHC Preferred)

H

59036
OX40L (D6K7R) Rabbit mAb (IHC Specific)

H

14572
B7-H4 (D1M8I) XP® Rabbit mAb

H
---