Home
>
Category: Primary Antibodies
> Keyword(s): mtor
Show Hidden Content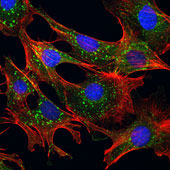 mTOR
The mammalian target of rapamycin (mTOR, FRAP, RAFT) is a Ser/Thr protein kinase that functions as an ATP and amino acid sensor to balance nutrient availability and cell growth. Listed below are CST products for mTOR research including:
Total Protein and Phospho-site Specific Antibodies.
Antibody Sampler Kits and PathScan® ELISA Kits and Antibody Pairs.
Blocking Peptides.
SignalSilence® siRNA.
---
No
Product Name
Application
Reactivity
2983
mTOR (7C10) Rabbit mAb

H, M, R, Mk

2972
mTOR Antibody

H, M, R, Mk

4517
mTOR (L27D4) Mouse mAb

H, M, R, Mk

9862
mTOR Substrates Antibody Sampler Kit

9964
mTOR Pathway Antibody Sampler Kit

9864
mTOR Regulation Antibody Sampler Kit

5536
Phospho-mTOR (Ser2448) (D9C2) XP® Rabbit mAb

H, M, R, Mk

2976
Phospho-mTOR (Ser2448) (49F9) Rabbit mAb (IHC Specific)

H

2971
Phospho-mTOR (Ser2448) Antibody

H, M, R, Mk

2974
Phospho-mTOR (Ser2481) Antibody

H, M, R, Mk

2280
Raptor (24C12) Rabbit mAb

H, M, R, Mk

2114
Rictor (53A2) Rabbit mAb

H, M, R, Mk

2140
Rictor Antibody

H, M, R, Mk

3806
Phospho-Rictor (Thr1135) (D30A3) Rabbit mAb

H, M, Mk

11816
DEPTOR/DEPDC6 (D9F5) Rabbit mAb

H, R, Mk

9476
Rictor (D16H9) Rabbit mAb

H, M

2083
Phospho-Raptor (Ser792) Antibody

H, M, R

13140
LAMTOR4/C7orf59 (D4P6O) Rabbit mAb

H, M, R, Mk

50081
Phospho-AMPKα (Thr172) (D4D6D) Rabbit mAb

H, M, R

2535
Phospho-AMPKα (Thr172) (40H9) Rabbit mAb

H, M, R, Hm, Mk, Dm, Sc

5831
AMPKα (D5A2) Rabbit mAb

H, M, R, Mk, B

5832
AMPKα (D63G4) Rabbit mAb

H, M, R, Mk, B

2532
AMPKα Antibody

H, M, R, Hm, Mk

2603
AMPKα (23A3) Rabbit mAb

H, M, R, Mk

2793
AMPKα (F6) Mouse mAb

H, M, R, Hm, Mk

2795
AMPKα1 Antibody

H, Mk

4185
Phospho-AMPKα1 (Ser485)/AMPKα2 (Ser491) Antibody

H, M, R, Mk

2537
Phospho-AMPKα1 (Ser485) (45F5) Rabbit mAb

H, M, R, Mk

4184
Phospho-AMPKα1 (Ser485) Antibody

H, M, R, Mk

4188
Phospho-AMPKα (Thr172) (D79.5E) Rabbit mAb

H, M, R, Dm, Sc
---