Cell Signaling Technology (CST) offers a growing line of cell based assay reagents and kits designed with the drug discovery investigator in mind. Whether your research calls for a primary cell based screen, or you are performing secondary cell based assays, CST offers an extensive line of phosphorylation-specific and total antibodies, substrates and assay kits to meet your needs. Moreover, CST has validated over 500 activation state-specific (e.g., phosphorylation-specific) and total protein antibodies for immunofluorescence (IF) applications such as automated cell based assays. For the characterization of select pathways of interest, CST has also developed Multi-Target IF Kits that contain panels of antibodies pre-optimized for use in whole cell assays.
If you have any questions, please contact our Technical Support team.
CST Antibodies in High Content Screening
The Acumen® eX3 (*TTP LabTech, www.ttplabtech.com/products/acumen/) is a laser scanning fluorescence microplate cytometer used for high content screening. CST's IF-validated activation state-specific and control antibodies are routinely used in-house on this high content platform both for single pathway profiling (example A) and for systems biology profiling (example B).
Example A. Single Pathway Profiling: A MAPK pathway inhibitor was tested in HeLa cells with anisomycin stimulation. Three downstream endpoints (phospho-CREB, phospho-Akt, and phospho-HSP27) were chosen to assess the efficacy of the inhibitor. Phospho-Rb and cleaved caspase-3 were also used to examine the effect of the inhibitor on proliferation and apoptosis, respectively. Cells were grown and treated in 96-well plates and labeled with CST antibodies. Plates were analyzed in-house on an Acumen® eX3 high content platform.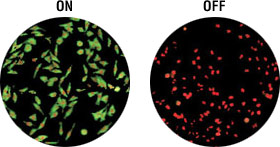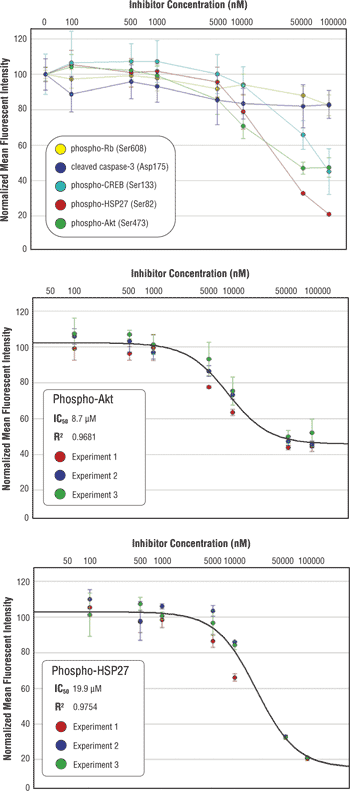 The MAPK inhibitor inhibited cellular signaling as evidenced by the decrease in phospho-Akt and phospho-HSP27 levels (see IC50 values and graphs above), while not increasing toxicity (see minimal change in phospho-Rb and cleaved caspase-3 levels above).
Example B. Systems Biology Profiling: Antibody array data from the Bcr/Abl-positive K562 and Bcr/Abl-negative SEM cell lines treated with dasatinib and imatinib. Cells were grown and treated in 96-well plates and labeled with a panel of 96 CST antibodies. Plates were analyzed in-house on an Acumen® eX3 high content platform and a high throughput flow cytometer.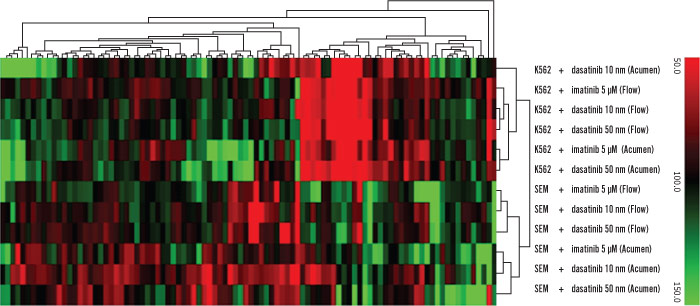 Responses were reported as either a decrease (red) or increase (green) in fluorescence intensity compared to vehicle. Both drugs inhibited Bcr/Abl-specific signaling pathways in K562 but not SEM cells.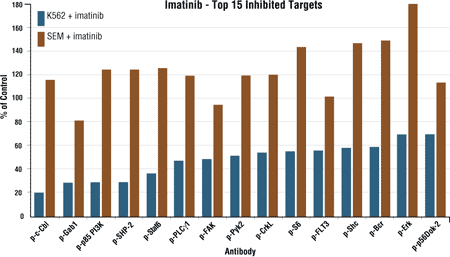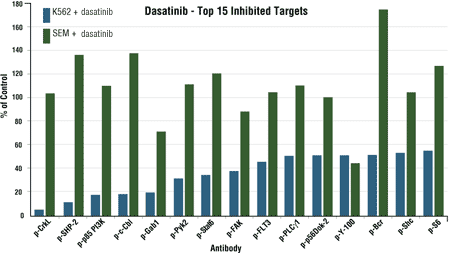 Responses of the 96 endpoints were sorted according to percent inhibition as compared to vehicle. The top 15 inhibited targets are represented in these graphs (imatinib-top, dasatinib-bottom). The magnitude of the response and the targets affected were slightly different between the two compounds.
*Data may be generated with methods/devices/compositions requiring a license to relevant third party intellectual property rights.