Download a Post Translational Modification of Amino Acids Poster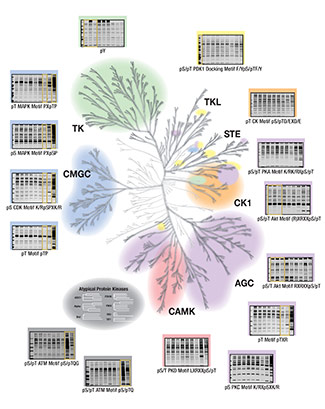 KinomeView® Profiling is a western blot based prescreening tool that uses the same motif and PTM antibodies available for PTMScan® analysis.
KinomeView Profiling enables you to:
Observe global signaling changes across multiple samples.
Select the best antibodies for use in subsequent PTMScan Discovery experiments.
Optimize experimental conditions (treatment dose, time-course, cell line, or tissue, etc.).
The KinomeView® Profiling Kit #9812 provides motif antibodies for a kinome-wide view of cellular phosphorylation. The KinomeView® Profiling Service includes motif antibodies for studying changes in phosphorylation and additional PTMs. The service is done by CST scientists and includes data analysis and expert project consultation. Please inquire for KinomeView® Profiling Services.
KinomeView Kit/Services for Phosphorylation Proteomics
| Antibody Description | Motif | Kit #9812 | Service |
| --- | --- | --- | --- |
| Antibody Description | Motif | Kit #9812 | Service |
| 14-3-3 Binding Motif | (R/K)XX(s/t)XP | ✘ | ✔ |
| Akt Substrate | RXX(s/t) | ✔ | ✔ |
| Akt Substrate | RXRXX(s/t) | ✔ | ✔ |
| AMPK Substrate | LXRXX(s/t) | ✔ | ✔ |
| ATM/ATR Substrate | (s/t)Q | ✔ | ✔ |
| ATM/ATR Substrate | (s/t)QG | ✔ | ✔ |
| CDK Substrate | (K/R)(s/t)PX(K/R) | ✔ | ✔ |
| CK2 Substrate | (s/t)(D/E)X(D/E) | ✔ | ✔ |
| MAPK/CDK Substrate | PX(s/t)P, (s/t)PX(K/R) | ✔ | ✔ |
| PDK1 Docking Motif | (F/K)XX(F/Y)(s/t)F/Y) | ✔ | ✔ |
| PKA Substrate | (K/R)(K/R)X(s/t) | ✔ | ✔ |
| PKC Substrate | (K/R)X(s/t)X(K/R) | ✔ | ✔ |
| PKD Substrate | LXRXX(s/t) | ✘ | ✔ |
| PLK Binding Motif | S(s/t)P | ✔ | ✔ |
| tP Motif | (s/t)P, (s/t)PP | ✔ | ✔ |
| tPE Motif | (s/t)PE | ✔ | ✔ |
| tXR/tPR Motif | (s/t)XR, (s/t)PR | ✔ | ✔ |
| Phospho-Tyrosine (pY-1000) | y | ✔ | ✔ |
Western-blot prescreen for other post-translational modifications
| Antibody Description | Modification | Motif | Service |
| --- | --- | --- | --- |
| Antibody Description | Modification | Motif | Service |
| Mono-Methyl Arginine | Methylation | Me-R | ✔ |
| Asymmetric Di-Methyl Arginine | Methylation | adme-RG | ✔ |
| Symmetric Di-Methyl Arginine | Methylation | sdme-RG | ✔ |
| Acetyl-Lysine | Acylation | Ac-K | ✔ |
| Glutaryl-Lysine | Acylation | Glut-K | ✔ |
| Malonyl-Lysine | Acylation | Mal-K | ✔ |
| Propionyl-Lysine | Acylation | Prop-K | ✔ |
| Caspase Cleavage Substrate | Proteolytic cleavage | [DE(T/S/A)D] | ✔ |