Cancer Publications from CST
Technical Support
Our scientists are at the bench daily to produce and validate our antibodies, so they have hands-on experience and knowledge of each antibody's performance.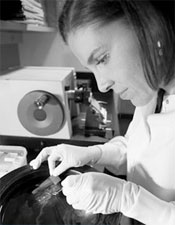 The Cancer Research Group at Cell Signaling Technology performs basic research in cancer signal transduction and regularly publishes their findings. The group largely focuses their efforts on non-small cell lung cancer (NSCLC) and was the first to identify novel ALK and ROS1 fusion proteins in NSCLC cell lines and tissue samples. View a full list of publications authored by CST scientists (CST scientists are shown in bold).
2013 Cancer Publications
Ling H, Roux E, Hempel D, Tao J, Smith M, Lonning S, Zuk A, Arbeeny C, Ledbetter S (2013) Transforming growth factor β neutralization ameliorates pre-existing hepatic fibrosis and reduces cholangiocarcinoma in thioacetamide-treated rats. PLoS ONE 8(1), e54499.
Israelsen WJ, Dayton TL, Davidson SM, Fiske BP, Hosios AM, Bellinger G, Li J, Yu Y, Sasaki M, Horner JW, Burga LN, Xie J, Jurczak MJ, Depinho RA, Clish CB, Jacks T, Kibbey RG, Wulf GM, Di Vizio D, Mills GB, Cantley LC, Vander Heiden MG (2013) PKM2 Isoform-Specific Deletion Reveals a Differential Requirement for Pyruvate Kinase in Tumor Cells. Cell 155(2), 397–409.
Hitosugi T, Zhou L, Fan J, Elf S, Zhang L, Xie J, Wang Y, Gu TL, Alečković M, LeRoy G, Kang Y, Kang HB, Seo JH, Shan C, Jin P, Gong W, Lonial S, Arellano ML, Khoury HJ, Chen GZ, Shin DM, Khuri FR, Boggon TJ, Kang S, He C, Chen J (2013) Tyr26 phosphorylation of PGAM1 provides a metabolic advantage to tumours by stabilizing the active conformation. Nat Commun 4, 1790.
Chung GG, Provost E, Kielhorn EP, Charette LA, Smith BL, Rimm DL (2001) Tissue microarray analysis of beta-catenin in colorectal cancer shows nuclear phospho-beta-catenin is associated with a better prognosis. Clin. Cancer Res. 7(12), 4013-20.
Carroll RS, Zhang J, Bello L, Melnick MB, Maruyama T, McL Black P (1999) KDR activation in astrocytic neoplasms. Cancer 86(7), 1335-41.