Technical Support
Our CST scientists work at the bench daily to produce and validate your antibodies. They have hands-on knowledge of each antibody's performance. These same scientists provide technical support and assistance.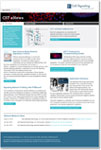 News from the Bench
Discover what's going on at CST, receive our latest application notes, science features, and more.
Cell Signaling Technology Demonstrates the Discovery Capabilities of its PhosphoScan® Proteomics Platform with Identification of Novel Kinase Target in Leukemia
Danvers, MA, August 3, 2006 – Cell Signaling Technology, Inc. (CST) announced today the publication of discovery research based on its patent-pending PhosphoScan® proteomics technology, which identified a mutant JAK3 tyrosine kinase as a novel driver in acute myeloid leukemia (AML). The discovery was published in the July 17, 2006, issue of the journal Cancer Cell, and involved a collaboration between CST and the laboratories of Drs. Brian Druker and Gary Gilliland, at Oregon Health Science University (OHSU) and Brigham & Women's Hospital, respectively. CST applied its PhosphoScan® platform and proteomics expertise to identify Phospho-Signatures® – profiles consisting of hundreds of tyrosine phosphorylated proteins – for a panel of AML cell lines where the disease mechanism was unknown. PhosphoScan® proteomics is a uniquely effective strategy for rapid and unbiased determination of cellular phospho-profiles, which point directly to kinase drivers of transformation and cancer. It involves a patent-pending method for immunoaffinity purification of phosphopeptides coupled to mass spectroscopic sequence and phosphorylation site determination. CST has performed extensive PhosphoScan® analyses of cancer cell lines and primary tumor tissues in which it has discovered many important disease mechanisms involving activated tyrosine kinases, and identified over fifteen thousand phosphorylation sites. CST has also provided PhosphoScan® analysis for many clients in the pharmaceutical industry for lead kinase inhibitor phospho-profiling with the objective of enabling novel response biomarker assay development.
The strategy of using PhosphoScan® to quickly reveal the profile of essentially every active and phosphorylated tyrosine kinase in a cell or tissue sample provides a huge breakthrough in our ability to determine cancer mechanisms in cell lines and human tumors