Technical Support
Our scientists are at the bench daily to produce and validate our antibodies, so they have hands-on experience knowledge of each antibody's performance. These same scientists will personally provide technical support.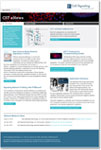 News from the Bench
Discover what's going on at CST, receive our latest application notes, science features, and more.
Cell Signaling Technology featured in The Boston Globe
As part of the growing presence of life science industry lab space in communities north of Boston, Cell Signaling Technology was featured, alongside other biotechs, in The Boston Globe.
See the full story here
.