Technical Support
Our CST scientists work at the bench daily to produce and validate your antibodies. They have hands-on knowledge of each antibody's performance. These same scientists provide technical support and assistance.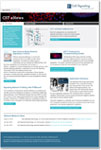 News from the Bench
Discover what's going on at CST, receive our latest application notes, science features, and more.
Dr. Michael J. Comb Receives CiteAb Lifetime Achievement Award
DANVERS, MA (PRWEB) – Feb 22, 2018 Cell Signaling Technology (CST), a leading provider of antibodies, kits, and services is thrilled to announce that Michael J. Comb, Founder, President, and Chief Executive Officer of Cell Signaling Technology will be presented with CiteAb's highest honor, the Lifetime Achievement award, for his significant impact in the reagent sector. The award presentation will take place in CST's booth #3606 during the American Association for Cancer Research (AACR) Annual Meeting 2018, April 14-18 in Chicago, USA.
CiteAb recognizes individuals from the research community for their noteworthy dedication and significant contribution to the research reagent industry over a sustained period of time. Dr. Comb is a respected scientist and is being honored for his tireless efforts to build the best antibody technology in the world for researchers working to understand the molecular and cellular processes of disease.
Those nominating Dr. Comb spoke of his dedication to the core business of CST through efforts such as maintaining a focus on product reliability over quantity. Also, they noted his societal concerns, including his commitment to the preservation of the environment, installing solar energy at CST's manufacturing facilities, recycling and composting programs, and making use of recyclable and compostable shipping materials.
Dr. Andrew Chalmers, founder of CiteAb, said: "I really don't think that anybody in this sector would dispute that Dr. Comb is incredibly worthy of this award, and the fact that the head of a leading competitor mentioned that he would be their choice makes it clear. To found and lead a company with such a focus on quality and deliver in such a successful way that their antibodies generate more citations than any other supplier, and to have been chosen as researchers' favorite company shows how successful his company has been at achieving his aim."
"I am very humbled and honored to be recognized by CiteAb with this Lifetime Achievement Award. It is an acknowledgement of the company we have built, with a different business model from that of most other companies. Our goal at CST is not to source every possible antibody product with questionable performance and specificity. Instead, our large team of Ph.D. scientists deploys exquisitely high standards to develop many of the most reliable products on the market to enable researchers to take faster and more confident strides in their research. At the same time we consider our impact on the environment in every decision we make and it is nice to be recognized for this by our peers," said Michael J. Comb.
Dr. Comb founded CST in 1999 with the purpose of providing the research community with tools that he himself sought as an investigator. Before starting CST, Michael directed the Molecular Neurology Lab at Massachusetts General Hospital and served as an Associate Professor of Neuroscience at Harvard Medical School.
Michael holds a B.S. in chemistry from the University of Massachusetts and a Ph.D. in chemistry from the University of Oregon. He has published more than 60 peer-reviewed scientific articles and is the inventor on numerous patents and patent applications.
About CiteAb
CiteAb is the largest citation-ranked antibody search engine and database. It provides an impartial way to find and compare antibodies that work. CiteAb is proud to power product citations on the Cell Signaling Technology website.
Contact: Katrina Kelly
CiteAb Marketing Manager
Phone: 07403 668718
email: kkatrina@citeab.co.uk
About CST
Cell Signaling Technology (CST) is a private, family-owned company, founded by scientists and dedicated to providing high quality research tools to the biomedical research community. Our employees operate worldwide from our U.S. headquarters in Massachusetts, and our offices in the Netherlands, China, and Japan.
Cell Signaling Technology®, and CST™ are trademarks of Cell Signaling Technology, Inc.
CST Media and Press
Rebecca J. Reppucci, MBA
Cell Signaling Technology, Inc.
Director of Marketing Communications
Phone: 978-867-2382
email: marketingpr@cellsignal.com