Home
>
Application: Flow cytometry
Show Hidden Content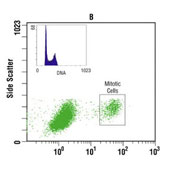 Flow Companion Products
Application solutions for consistently better flow cytometry analysis. These are the same reagents used by our scientists when validating our primary antibodies, so we have the experience to support every step of your flow cytometry experiment.
Secondary antibodies
Cellular dyes
Isotype controls
Blocking reagents and buffers
Inhibitors & activators
siRNA
Featured Image: Propidium Iodide (PI)/RNase Staining Solution #4087.
---
No
Product Name
Application
Reactivity
36438
BLNK (D3P2H) XP® Rabbit mAb

H, M

6964
Bmi1 (D20B7) XP® Rabbit mAb

H, Mk

12109
Bora (D2B9) Rabbit mAb

H

81694
Brachyury (D2Z3J) Rabbit mAb

H

5292
BrdU (Bu20a) Mouse mAb

All

2119
BRF1/2 Antibody

H, M, R, Mk

8547
Btk (D3H5) Rabbit mAb

H, M

56044
Btk (D6T2C) Mouse mAb

H, M

8178
C/EBPα (D56F10) XP® Rabbit mAb

H, M

64953
VISTA (D1L2G™) XP® Rabbit mAb

H, Mk

6502
C1QBP (D7H12) XP® Rabbit mAb

H, M, R, Mk

5864
CA12 (D75C6) XP® Rabbit mAb

H

3354
CACYBP Antibody

H, M, R, Mk

8225
CACYBP (D43G11) Rabbit mAb

H, M, R, Mk

3195
E-Cadherin (24E10) Rabbit mAb

H, M

14472
E-Cadherin (4A2) Mouse mAb

H, M, R

14029
P-Cadherin (12H6) Mouse mAb

H

2500
VE-Cadherin (D87F2) XP® Rabbit mAb

H, Dm, B, Pg

12238
Calreticulin (D3E6) XP® Rabbit mAb

H, M, R

65832
Cas9 (S. pyogenes) (D8Y4K) Rabbit mAb

All

14697
Cas9 (7A9-3A3) Mouse mAb

All

9664
Cleaved Caspase-3 (Asp175) (5A1E) Rabbit mAb

H, M, R, Mk

9579
Cleaved Caspase-3 (Asp175) (D3E9) Rabbit mAb

H, M

9661
Cleaved Caspase-3 (Asp175) Antibody

H, M, R, Mk

8438
Cleaved Caspase-7 (Asp198) (D6H1) Rabbit mAb

H, M, R

8592
Cleaved Caspase-8 (Asp387) (D5B2) XP® Rabbit mAb (Mouse Specific)

M

9496
Cleaved Caspase-8 (Asp391) (18C8) Rabbit mAb

H

20750
Cleaved Caspase-9 (Asp315) (D8I9E) Rabbit mAb

H

9502
Caspase-9 Antibody (Human Specific)

H

2131
α-N-Catenin Antibody

H, M, R
---