Technical Support
Our scientists are at the bench daily to produce and validate our antibodies, so they have hands-on experience and knowledge of each antibody's performance.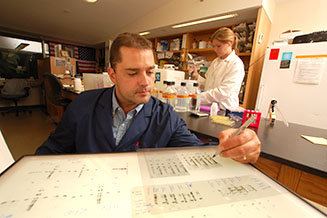 Many companies regard custom reagent orders as a "one and done" transaction. At CST, we look at your order as the foundation of a long-term partnership. Beyond offering custom reagent sizing or formulations, and customized antibody conjugates, we will work with you to understand your business objectives, so that we can offer technical advice, project management tools, and pricing strategies to help you meet your goals now and into the future.
Click below to learn more about how partnering with CST Custom Reagents can help your company succeed.
Project Management and Logistical Support
A dedicated Product Scientist will work with you to determine the best antibodies for your assay and to help you troubleshoot any issues that might arise.
We will manage a Maintenance Plan, which provides history and details of your personalized orders.
The Customs Team will chaperone your orders and shipments through the system and coordinate quality documentation with the CST Quality Control group.
Specialized Packaging
We offer bulk and/or custom volumes of our products.
We can work with you to create custom packaging that is user friendly and efficient.
We provide documentation in a convenient electronic format via flash-drives.
Supply Chain Management
We work with you to reserve specific product lots, so there is no need to revalidate every time you reorder.
We provide "Reserves Reports", which alert you to when a lot is running low, so that you can begin testing a new lot or switch to a suggested alternative, before running out of your current lot.
Streamlined Order Management through Oracle
Our ordering processes makes it easy to check availability, submit POs.
We provide Shipping Reports, so you know which products have shipped, and which are pending.
Quality Control and Assurance
We control all aspects from raw material production and storage through production lots to ensure verifiable traceability and inventory control.
Complete documentation to ensure a thorough paper trail (e.g., Certificates of Analysis) and can include SenseAwares multi-sensor data collection monitors in shipments as needed to ensure proper product storage and handling.
We provide top quality service door-to-door. We utilize track-able, reportable monitors on each storage unit at CST, utilize FedEx® Priority Alert shipping services, and include SenseAwaresm multi-sensor data collection monitors in each shipments to ensure proper product storage and handling.
Bulk Reservations
Eliminate supply problems and reserve a single lot of any of our reagents. Volume-based discounts are available.
Custom Formulations
CST offers a broad portfolio of antibodies available in PBS only formulations. Other custom formulations and custom concentrations can be prepared upon request.
Our custom conjugation group offers price-competitive direct conjugation services of CST antibodies that include extensive technical, assay development and application consultation.
Custom ELISA Packaging and 96– and 384–Well Plate Formatting
Customized packaging and reagent volumes are available for ELISA kits in bulk quantities, with a choice of 96- or 384-well plates.