Home
> Keyword(s): Caspase-3
Show Hidden Content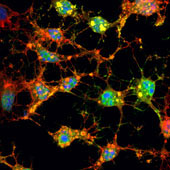 Caspase-3
The primary executioner of programmed cell death is caspase-3, as it is directly or indirectly responsible for the cleavage of many proteins and caspases involved in apoptosis. Listed below are CST products for caspase-3 research including:
Antibodies for both Total and Cleaved protein.
SignalSlide® IHC Controls.
Antibody Sampler Kits and PathScan® ELISA Kits and Antibody Pairs.
SignalSilence® siRNA.
---
No
Product Name
Application
Reactivity
9662
Caspase-3 Antibody

H, M, R, Mk

9665
Caspase-3 (8G10) Rabbit mAb

H, M, R, Mk

29629
Caspase-3 (8G10) Rabbit mAb (HRP Conjugate)

H, M, R, Mk

9663
Caspase-3 Control Cell Extracts

14220
Caspase-3 (D3R6Y) Rabbit mAb

H, M, R, Mk

9668
Caspase-3 (3G2) Mouse mAb

H

14214
Caspase-3 (D3R6Y) Rabbit mAb (IHC Formulated)

H

5723
Caspase-3 Activity Assay Kit

9664
Cleaved Caspase-3 (Asp175) (5A1E) Rabbit mAb

H, M, R, Mk

9661
Cleaved Caspase-3 (Asp175) Antibody

H, M, R, Mk

9579
Cleaved Caspase-3 (Asp175) (D3E9) Rabbit mAb

H, M

9602
Cleaved Caspase-3 (Asp175) (D3E9) Rabbit mAb (Alexa Fluor® 647 Conjugate)

H

9603
Cleaved Caspase-3 (Asp175) (D3E9) Rabbit mAb (Alexa Fluor® 488 Conjugate)

H

9669
Cleaved Caspase-3 (Asp175) Antibody (Alexa Fluor® 488 Conjugate)

H, M, R, Mk

1050
Cleaved Caspase-3 (Asp175) Blocking Peptide

H

9978
Cleaved Caspase-3 (Asp175) (5A1E) Rabbit mAb (PE Conjugate)

H, M, R, Mk

8788
Cleaved Caspase-3 (Asp175) (D3E9) Rabbit mAb (Pacific Blue™ Conjugate)

H, M

9654
Cleaved Caspase-3 (Asp175) (5A1E) Rabbit mAb (Biotinylated)

H, M, R, Mk

8172
Cleaved Caspase-3 (Asp175) (D3E9) Rabbit mAb (Alexa Fluor® 594 Conjugate)

H, M

12692
SignalStain® Apoptosis (Cleaved Caspase-3) IHC Detection Kit

H, M

8104
SignalSlide® Cleaved Caspase-3 (Asp175) IHC Controls

6520
SignalSilence® Caspase-3 siRNA II

H

6466
SignalSilence® Caspase-3 siRNA I

H

7190
PathScan® Cleaved Caspase-3 (Asp175) Sandwich ELISA Kit

H

12768
Cleaved Caspase-3 (Asp175) (D3E9) Rabbit mAb (PE Conjugate)

H

9604
Cleaved Caspase-3 (Asp175) (D3E9) Rabbit mAb (Alexa Fluor® 555 Conjugate)

H

8202
PhosphoPlus® Caspase-3 (Cleaved, Asp175) Antibody Duet

9929
Cleaved Caspase Antibody Sampler Kit

9930
Apoptosis Antibody Sampler Kit (Mouse Preferred)

9915
Apoptosis Antibody Sampler Kit
---