Have questions about our sustainability initiatives or want more information?
2015 CSR Report
A report on our sustainable practices as citizens of our local and global communities.

Reducing our environmental footprint has always been a core company value since our sustainability and green initiatives began in 2001. Our impact on the land, thoughtful use of water, energy use and managing our waste are all considered and reviewed by our full time Sustainability Coordinator and our Green Committee, We believe in a data driven approach to continuously improve and implement business practices that minimize negative impacts on nature.
Have questions about our sustainability initiatives or want more information? Please contact us with your questions or concerns.

CST's Green Committee, dating back to our early years as a company, has evolved into an effective committee of employees from nearly every department, in our U.S. locations. Our vision is to understand our environmental impacts, create awareness within the organization, and help develop corporate strategies that minimize environmental impact. We continue to find sustainable business solutions and develop successful award winning programs that make a difference in our industry and communities.

CST's United States based Transportation Management Plan (TMP), established in 2011, uses financial incentives and up to two days off work to promote alternative transportation such as carpooling, walking, biking, or taking public transportation. The TMP is a good example of how engaged and concerned employees helped lower our carbon emissions from commuting by nearly 8% in less than two years. CST made a number of improvements to our facility including; installing showers and indoor bike racks. We also established a bonus for individuals who purchase Low Emission, Fuel Efficient (LEFE) vehicles and provided preferred parking for them. In addition, this year CST installed electrical vehicle charging stations with free charging for employees and visitors. To date our accomplishments include: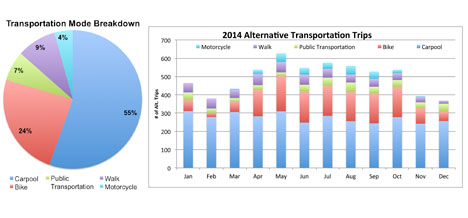 33% of U.S. based employee participation in TMP
In 2012 and 2013, Massachusetts Department of Transportation awarded CST the pinnacle award for Excellence in Commuter options
In 2013, CST was additionally awarded the Spotlight in Innovation award by the Massachusetts Department of Transportation
Since we launched the TMP in 2011

333,000 commuting vehicle miles avoided
12,500 less gallons of fuel used
More than 150 tons of carbon reduced
$25,000 savings in fuel costs

Companies, not individuals generate 75% of the waste that reach landfills or incinerators. Over the past three years, CST has diverted more than 70% of its wastes from the landfill— more than 250,000 pounds of material or enough waste to fill two Olympic size swimming pools, every year! Our in-house recycling and composting program have been critical in achieving these savings and we are continuously auditing our trash stream to minimize the amount of waste going to the landfill. In 2012, a local non-profit, MassRecycle nominated CST for their 'Recycler of the Year Award.'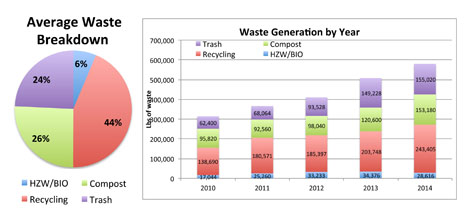 In 2006, CST renovated the former Kings Grant Hotel located in Danvers, MA, US and transformed it into a state of the art production laboratory and business headquarters for Cell Signaling Technology. CST was awarded a LEED certification from the US Green Building Council (USGBC). CST was one of only a handful of laboratories in United States that achieved LEED certification at the time.
"The LEED (Leadership in Energy and Environmental Design) Green Building Rating System is a voluntary third party rating system where credits are earned for satisfying specified green building criteria. Projects are evaluated within six environmental categories: Sustainable Sites, Water Efficiency, Energy and Atmosphere, Materials and Resources, and Indoor Environmental Quality. Certified, Silver, Gold, and Platinum levels of green building certification are awarded based on the total credits earned. The LEED standard has been adopted nationwide by federal agencies, state and local governments, and interested private companies as the industry standard of measurement for green building." - USGBC

Thoughtful green design of our marketing and packaging materials has made CST a leader in our industry. The impact on the environment is considered in every decision we make concerning the resources used to promote our products. All of CST's marketing and packaging materials are made from the highest amount of post consumer waste available. Our shipping envelopes and antibody vial boxes are made for the highest percentage of post-consumer waste possible and the paper we use are certified by the Forest Stewardship Council (FSC).
In 2009, CST stopped shipping products in Styrofoam coolers because of its inability to break down and other environmental concerns. We began shipping our products using a new shipping cooler composed from cardboard, mineral rock slag wool and biodegradable plastic. This new shipping cooler has the same thermal properties as a Styrofoam box but can degrade in a landfill.

Laboratories are among the most energy and natural resource intensive buildings on the planet. In some cases laboratories use up to 5 times the amount of energy and natural resources per square foot that a normal office building would use. There are always opportunities for energy conservation and part of CST's energy management plan is to constantly analyze and monitor our energy use. As we continue to pursue energy efficiency in our facilities by upgrading older equipment and purchasing only the most energy efficient new equipment, we expect to reduce our energy needs and reduce our overall carbon footprint.

In 2009, CST inventoried it's U.S. facilities carbon emissions using the EPA's voluntary Climate Leaders metric and has been tracking them on an annual basis ever since. Our largest source of carbon emissions are directly tied to how much energy we consume at our facilities. We have developed an energy management program aimed at reducing energy in our operations and by doing so minimizing our carbon footprint. While we are not directly affected by any governmental carbon regulation, we believe it our responsibility to keep track of all of our emissions.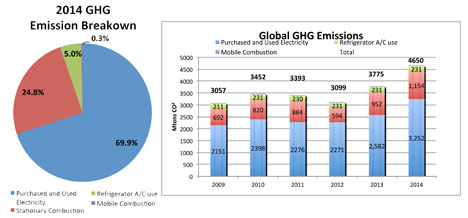 In our Danvers, MA, headquarters the Green Committee invites local environmental leaders to speak about the organizations they represent or relevant topics concerning important environmental issues. Previous topics have ranged from climate change and land conservation to tagging Bluefin tuna and watershed protection.


CST's community garden program began as a U.S. employee driven green initiative. Currently we have two raised beds that provide fresh summer produce for the employees and our in-house cafeterias at our two Massachusetts locations. Our garden program is run solely by our employees and has been a great place for inexperienced gardeners to learn from those employees who have gardens of their own. Our first year was a huge success with over 200 pounds of vegetables going to the cafeteria!